Spa Holiday –
At Aphrodite's beach

Aphrodite, goddess of love, once rose from the sea foam by the Cypriot coast, as Greek mythology would have it. French perfumer François Coty dedicated his famous Chypre fragrance to the Mediterranean island, which is still home to a certain magic. Crystal clear water, lemon trees and olive groves permeate the landscape.
Close to the Greek port town of Paphos, barely a stone's throw from the famous crashing waves, the visitor will find the completely minimalist Almyra Hotel. Responsible for the interior design is the Parisian interior architect Joëlle Pléot, who once designed the late Karl Lagerfeld's home. Chalk white walls and geometric shapes are presented in harmony with warm woods and light linens.
The spa at Almyra employs renowned methods used in international skincare and, what's more, offers therapies and treatments based on the ocean and marine flora. Traditional Cypriot applications see the body wrapped in warm olive oil and scrubbed with sugar crystals and essence of carob tree. Anyone with time left after yoga, Pilates, the infinity pool, saunas, steam baths, tennis, gym and tasteful restaurants is naturally also free to indulge in diving, waterskiing, mountain climbing or horseback riding.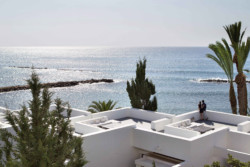 SUPERIOR SEA VIEW ROOM
FROM €291,
BREAKFAST AND SPA INCLUDED.
ALMYRA HOTEL CYPRUS,
ALMYRA.COM