DAILY PAPER – think big!
Daily Paper
At the start, Daily Paper was a lifestyle blog established by a pair of creatives from Amsterdam. The two took their first steps into the world of design when they distributed printed t-shirts to market their website. In 2010, this campaign transformed into a fashion label that combines African and European influences. It's a celebration of youth culture – this season with puffer jackets and printed sweaters in bright colours.
MAISON LABICHE – labelled
Maison Labiche
Hand-embroidered t-shirts are a trademark of Parisian label Maison Labiche. The small words written cursively right where the heart is range from 'Amour' to 'Gangsta'. It also produces tops with pictograms. This fashion owes its inspiration to the embroidery on boarding school clothing from the fifties. This year's autumn collection featuring warm knits is drawing additional inspiration from an imaginary trip to the Siberian mountains.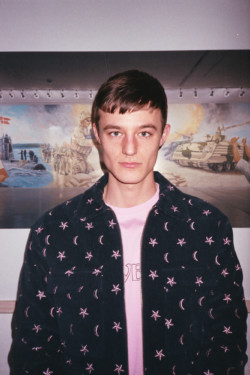 SOULLAND – a flair for fashion
Soulland
Designs such as the hybrid 'Adler Fedora' cap and hat are typical of Soulland. The company offers urbanwear with a Scandinavian influence: sweaters, shirts and t-shirts, some with statements printed on top, some highly simple. Up-and-coming artists such as Mont Jake and PartyNextDoor wear the pieces in their music videos and on Instagram. This flair for street-proof fashion has even won the fashion company the DANSK Fashion Award.
Wesc
WeSC hoodies are much beloved in the skater scene – and beyond it too. Its pieces represent streetwear with a highly contemporary look, doing away with the baggy style. The brand, founded in 1999, has a logo resembling a 'high five' icon and, reflecting this spirit, has worked on many collaborations in the past. It released skateboards with the Andy Warhol Foundation and headphones with the rapper RZA. Lately it has been fusing womenswear and menswear. The key word here: genderless.
PEAK PERFORMANCE
Thirty years ago, three friends were about to embark on a ski adventure though couldn't find any functional clothing to their taste. To take somewhat of a stand against the neon blur of the eighties, they tested some self-designed kit in a Swedish winter sports village. The designs were received well and helped Peak Performance grow into a popular brand for sportswear and urbanwear. Today it provides clothing for elite sportsmen and sportswomen.
HAN KJØBENHAVN
The oversized coats, patchwork jackets and flannel shirts from Han Kjøbenhavn's new collection are reminiscent of nineties grunge. The rebellious look is in keeping with the highly individual style of the Danish brand, which originally made a name for itself in designer glasses. Today it is established throughout the entire fashion world. Campaigns featuring models straying from regular beauty standards have captured widespread attention.