Millennial-Minded.
Michalsky reinvents Jet Set
Michael Michalsky in an interview about his new role as Creative Director at Jet Set and his vision for the ski fashion label.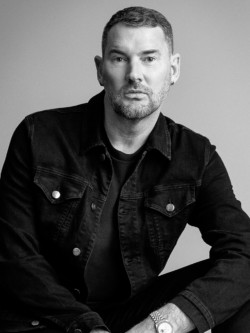 You are the new creative director of Jet Set, the label that once revolutionised ski fashion. How did you get here?
I'm a child of the eighties. When I wanted to see fashion as a teenager, I went to the Jet Set store at Gänsemarkt in Hamburg. They were pop culture, Boy George was wearing Jet Set. With a hat. Before that it was Grace Kelly and Gunter Sachs. I saved up for an orange bomber jacket for a long time. Later I often wondered, why doesn't anyone do anything with Jet Set? Then last year the stars aligned.
What was the first thing you did?
I went to Switzerland and went through the archives. I also buy back old pieces on eBay. Lots of designs come from the archives. There was a really crazy down jacket made of nylon patchwork. It looks like a Mondrian painting. I used that as the basis for some new designs.
What does Jet Set stand for today?
For very high-quality streetwear. Jet Set is loud, colourful, inclusive. It's not for people who want to follow the herd. We design for millennials and millennial-minded people. People like me, in other words.