Well-oiled
Forget the myth of greasy layers.
Good quality oils can really help care for your skin.
01 »Cleanse Off Oil« 29.50 euros MAC — 02 »L'Huile« face oil 39 euros CHANEL — 03 »Youth Watery Oil« from the »Abeille Royale« range 127 euros GUERLAIN — 04 »Rose Hair & Body Oil« 34 euros OUAI — 05 »The Glowing Body Oil« 95 euros LA MER — 06 »Huiles Précieuses pour le Corps et le Bain« 62 euros DIPTYQUE
When stress occurs, the skin reacts. Environmental pollution, climatic fluctuation and general exertion can all make the skin look less healthy. So it's important to understand the needs of the skin and to care for it properly – a process in which oils have an important role to play.
Contrary to popular belief, oils don't make the complexion shiny or leave a film on the skin. Rather, they strengthen the skin's natural protective barrier and provide it with moisture. This is due to the unsaturated fatty acids contained in the oil, which are similar to the natural lipids of the skin and which can penetrate into the upper layers of the skin. The choice is between pure vegetable oil or a synthetically produced version that lays itself over the skin like a protective film. But not every oil is suitable for every skin type or every skin need.
End of the dry season
In a healthy state, the skin has a thin fatty film, the lipid film. This prevents water from evaporating and prevents the skin from drying out. If this natural protective barrier is defective, tiny gaps appear between the cells of the uppermost skin layer, through which moisture is lost. The result is that the skin becomes rough, scaly and tight. It becomes thinner and more porous and thus more susceptible to the penetration of more irritants.
Vegetable oils such as avocado, olive or jojoba oil (e.g. Cleanse Off Oil from Mac) aim to prevent this by improving the skin's ability to bind water. They contain omega-3 fatty acids to keep the skin's lipid layer intact, as well as Vitamins A and E (e.g. Huile Santal by Clarins). This provides moisture and elasticity.
Caution, mimosa
The phrase 'sensitive skin' can have different meanings – stress sensitivity, reactions to environmental influences or allergies caused by ingredients. The skin may react to disruptive factors with a slight tingling or itching sensation, or with red spots. But here too the right oils can provide relief.
Compared to creams, oils contain fewer ingredients that can irritate the skin. Ideal in this case is almond oil, which thanks to its linoleic and palmitic acid can soothe irritated skin and strengthen its protective layer (e.g. Cellular Swiss Ice Crystal Dry Oil from La Prairie). Marigold oil contains saponins, plant substances that are thought to have a particularly anti-inflammatory effect.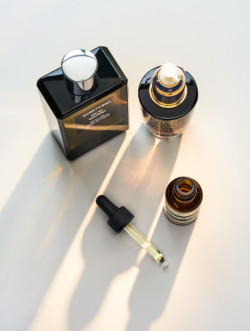 01 »Oud Wood Body Oil« 64 euros TOM FORD — 02 »Replenishing Treatment Oil« from the »Future Solution LX« range 145 euros SHISEIDO — 03 »Fabulous Face Oil« 47 euros AESOP
Skin in balance
Facial oils are also a good choice for slightly greasy combination skin. The assumption that oils make the skin shine even more or clog pores is simply not true. Rather, they have numerous properties that help the skin to regain its balance. Argan oil has an antibacterial and skin-soothing effect, and rose oil can even reduce small scars. Juniper berry oil refines the pores (e.g. Fabulous Face Oil by Aesop). These oils also have sebum-regulating ingredients that signal to the skin that it is time to slow down its own sebum production.
Anti-aging experts
Aging skin is particularly demanding because it has to cope with several problems at the same time. It loses moisture and elasticity and generally becomes thinner. The depth of wrinkles becomes increasingly visible and one or two pigment spots appear on the surface of the skin.
Products that protect the skin from free radicals stimulate collagen production and effectively regenerate it can be particularly helpful (e.g. Cure Majesteuse Votre Visage from Valmont's L'Elixir des Glaciers line). Omega-6 fatty acids, which smooth the skin and delay the aging process slightly, should be part of your daily beauty routine. Evening primrose, pomegranate or gold-of-pleasure oils (e.g. Replenishing Treatment Oil from Shiseido's Future Solution LX line) are ideal.
Körperkult
Whether in creams, lotions or bath additives, more and more oils are also being used in body care. Essential oils in particular play an important role here. They can transmit messenger substances to the brain via the sense of smell and help influence mood. Lavender blossom has a relaxing effect. Jasmine is said to reduce stress and agarwood to lift the mood (e.g. Oud Wood Body Oil by Tom Ford). The oils that calm, regenerate and keep the skin supple (e.g. Huiles Précieuses pour le Corps et le Bain by Diptyque) score highly when it comes to care. In hair care, oils are mainly used to care for irritated and dry scalps. They also give brittle hair new shine (e.g. Rose Hair & Body Oil by Ouai).